Dataforce – Seminar MC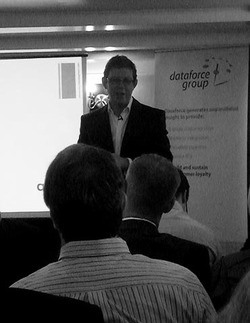 Dataforce are the UK's leader in managing and implementing multi-channel, integrated customer communication campaigns. Our partners Adapt hosted a Development Day, in partnership with Dataforce.
Together we wanted to run a day for senior leaders from our clients' organisations, to thank them for their business and support throughout the year, and to showcase our businesses.
We ran a high profile event on HMS Belfast, with the theme of leadership in tough times, called "Storming Performance". Great as they are, having world class speakers does not guarantee an event flows or 'hangs together' and it was very important that the day itself had strong leadership. We knew Shaun would be the perfect individual to act as MC. Having worked many times with Shaun, we know he goes beyond the role of MC and brings a depth of credibility as a successful businessman himself. This really matters to an audience of this calibre.
"He combines an exceptional mix of business knowledge and stage presence" said Aly King, Development Manager. "He immediately connected with the audience and formed a link between the speakers before delivering a well observed, intelligent summary of his own to round off the morning. The feedback following the event exceeded our very high expectations. Knowing Shaun was there allowed us all to relax and get on with our own roles, without running the whole day too. Having Shaun there was transformational to the day – to me, to the delegates and also to the speakers, who felt clearer about what needed to happen."
Read other case studies