Mercedes Benz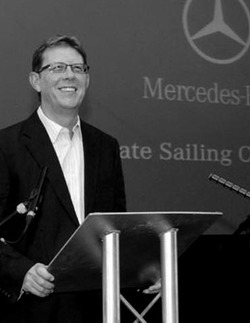 Mercedes-Benz Cars is a grouping of the passenger car brands of Daimler AG, a range which includes some of the most valuable brands in the automotive industry.
Every July Mercedes Benz holds a 'sailing day' in Southampton for their corporate customers and their sponsors from the dealerships around the UK. The customers spend the morning on 12 72ft yachts owned by Sir Robin Knox-Johnston. These yachts are used in the 'Clipper Round the World Yacht Race' and the customers spend the morning learning how to sail as part of a team and during the afternoon they race each other, before attending a gala awards dinner presented by Shaun at the Grand Harbour Hotel. Shaun's role is to help build an entertaining 'show' for the evening event.
At the start of the day at the Royal Sailing Club, Shaun interviews the participants to camera asking them about their expectations of the day. This is added to film (footage) of the day's sailing and shown at the awards dinner. Following the racing, Shaun interviews each returning boat and gathers stories which he turns into 'fun' awards on the evening (i.e. 'The team who were accused of cheating the most!').
Corporate Manager Colin Niklas expanded:
"We have used Shaun on this event for the past 5 years and every year he manages to deliver an extraordinary fresh performance, taking into consideration how short a time he has to prepare. Each year we obviously consider if we should change the format and the Presenter, but the feedback we receive about Shaun is always so positive, we don't feel the need".
The whole event is organised by Mobile Promotions Events. Managing Director Robin Carlisle explains: "Shaun has worked with us for a number of years, as an integral part of the events presentation team here, who focus hard on delivering extraordinary events for big brand clients such as Mercedes-Benz UK. Shaun's presentation and people skills are rare. There are many people in this business who claim to be good, none however, in our 25 years experience have Shaun's unique mix of skill set and humorous style, that delivers such a strong blend of information and entertainment."
« go back to Case Studies page
Read other case studies