Sage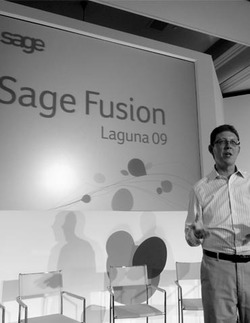 The Sage Group plc is a leading supplier of business software and services to 5.7 million customers worldwide.
Formed in 1981, the Group was floated on the stock exchange in 1989 and now employs 14,800 people in its market leading companies worldwide.
Sage held their 2009 global conference in Laguna Beach, Southern California. Senior Executives from around the world attended the 3 day conference, entitled 'Fusion 09'. The Conference consisted of a series of presentations, a guest speaker, workshops and Q and A sessions.
Emma Oliver Corporate Communications Manager explains further:
"We needed a Facilitator with a business background and good communication skills who could engage and challenge our high level audience and work closely with our Directors, before and during the event. Shaun came highly recommended and fitted the bill perfectly"
"On the first day he interviewed and introduced our various in-house speakers and challenged the delegates during follow-up workshops.
On the second day he facilitated a session about 'Authenticity' with our keynote speaker Joe Pine, one of America's leading business gurus, and on the final day Shaun delivered his own keynote speech on 'Inspirational Leadership'.
Group Director – HR & Corporate Communications, Karen Geary added:
"Shaun worked closely with our CEO and our team during the planning stages of the conference, when his advice definitely helped us shape the event.. His humour, communication skills and business knowledge became evident during this time and were used to full effect when he actually facilitated the conference, fully justifying our decision to use him"
Read other case studies