SEAT – Conference Facilitator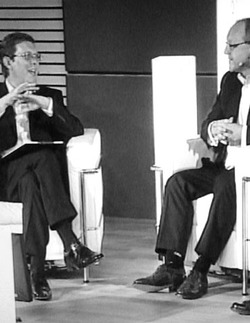 SEAT the Spanish car manufacturer owned by the Volkswagen Group holds the distinction of being the only Spanish car maker with the ability to design, develop, and produce its own vehicles.
SEAT is a young, sporty brand with a commitment to making cars that people love to drive. By virtue of extensive product development over the past 2 years, SEAT can genuinely claim to have 'the youngest car range in the world'.
SEAT UK held their Dealer Conference at The Grove Hotel in Watford where they entertained around 350 guests. During the afternoon the Dealers attended a presentation where the SEAT UK Management Team were systematically interviewed by Shaun in 'Michael Parkinson' type interviews on their performance in the previous year and their plans for the year ahead.
"We needed a presenter with credibility. Having used Shaun earlier in the year on a series of Dealer Seminars we felt that he would ideally fit the bill" said Steve Robertson, Head of Marketing at SEAT UK. He added "Shaun genuinely made a massive difference and was the ultimate professional throughout the planning, rehearsal and delivery process. During the evening event Shaun used his extended repertoire and transformed into Compare and Voice of God to introduce the various entertainers. We certainly got our money's worth!"
Read other case studies