SEAT – Conference Speaker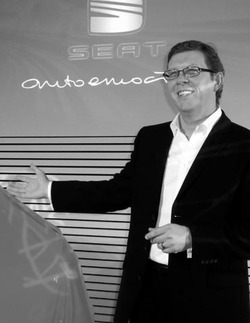 SEAT is a Spanish auto manufacturer owned by the Volkswagen Group. They hold the distinction of being the only Spanish auto maker with the ability to design, develop, and produce its own vehicles. SEAT is a modern company with a commitment to change people's perception of driving, aided by the experience and resources of the Volkswagen Group. They currently hold the distinction of being the youngest model range in the world.
SEAT recently ran a series of regional product seminars at various racetracks across the UK which the staff from their 113 Dealerships attended. The objective was to update the delegates on SEAT's latest range of vehicles and allow them to fully test their capabilities on the track. SEAT Management were looking to complete the day by motivating their staff to go 'above and beyond' on a particular business issue. Shaun initially talked to the Dealer Principles as part of a feedback session then delivered a one hour motivational session to the sales staff.
"We were looking for behavioral change in a particular area and we had heard that Shaun had delivered a similar talk at our sister company Audi which had received excellent feedback" said SEAT UK Product Marketing Manager Andrew Medcraft.
"Shaun threw himself fully into the project and even carried out some 'mystery shops' to ensure that he was fully prepared for his session. It has been clear from the feedback we have received from our delegates, that our decision to use him was fully justified and we will definitely be using him again."
Read other case studies