Toyota GB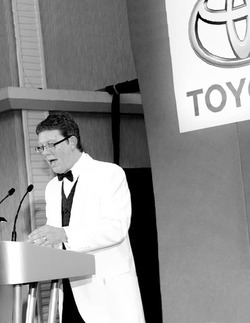 Toyota GB is a subsidiary of Toyota, one of the world's largest motor manufacturers. Across the UK, Toyota GB has various Business Centres within their major franchises who service their UK Corporate Customers. Each year they bring together representatives from the Centres to attend the prestigious 'Toyota Business Centre of the Year Awards'.
For the past 4 years, Shaun has been the MC at the awards ceremony. This comprises of liaising with the organisers, building a script to match the series of awards given by Toyota and hosting the event itself. In the latter years a voice over has been used to announce the awards and Shaun has worked closely with BBC's, Alan Dedicoat to produce a professional and entertaining evening. Last year Shaun was also asked to walk amongst the audience and present some supplementary awards before the main event whilst 'bantering' with Alan.
Charlotte Booth, Project Director, Grass Roots EventCom expands:
"I have worked with Shaun for the past few years on the Toyota event where he has been the conference presenter and evening MC. He is an asset to any event team with his insight to the client needs and clear and engaging interpretation of the client's message to the audience. He offers great insight at the planning stages and delivers a very high level professional performance on the day."
Toyota Director Peter Howarth summarises:
"We have used Shaun a number of times over the past few years, both as a host at our Business Centre Conferences and as MC at our Annual Awards Ceremony and, indeed, have already re-booked him for next year. Not only does Shaun manage the role extremely well, he also contributes to the planning and structure of the event, giving a very valuable external perspective and good understanding of where 'humour' will work. He is a true professional and a great support to our team".
« go back to Case Studies page
Read other case studies